It's no surprise that social media is continually on the rise – with almost 5 billion people, or 59.4% of the world's population, on social media it only makes sense to shift your efforts to where your target audience is. Though users spend their time scrolling for a variety of reasons, 27.9% primarily use social media to research products to buy and discover new brands. The same can be said for jobseekers when they partake in their job search.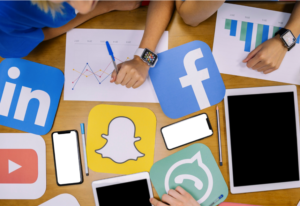 Social media is the most powerful tool to have when it comes to recruiting top talent, yet only 67% of organizations actually nurture potential candidates online. Job seekers are now relying on organic, employee-shared content through platforms like LinkedIn, TikTok, and Instagram to find their next gig instead of browsing through traditional job boards. In fact, 79% of job seekers make it a point to scope out a potential employer's social media presence to ensure they're trustworthy before submitting an application. An attractive, consistent, and engaging employer brand online is the key to attracting quality applicants.
For recruiters, social media is the holy grail for alluring both active and passive candidates to open roles. As we mentioned before, job seekers love to see authentic employee stories and content. And what they love even more is knowing exactly who to reach out to when they see an opportunity they're excited about. While your intention may only be to share an application link to your network, the outcome oftentimes ends up being so much more. 85% of jobs are filled through networking, and social media is the perfect space for candidates to comfortably form connections with potential employers to express their interest.
The recruiting landscape has changed drastically in the last few years, but one thing is certain – social recruiting is here to stay and vital for success moving forward.  So how do we as recruiters create followers, passive and active pipelines of warm candidates who are ready to join you when your opening hits their social feeds? Here are a few tips from recruiters who have hired thousands of candidates throughout their careers, especially on LinkedIn, Twitter, and Facebook.
Is my profile completed with my photo? First impressions matter a lot to candidates. It's like "dating."  Make sure your LinkedIn and Twitter profiles are fully complete and professionally written.  Professional profile photos go a long way.
How often should you post? Our data suggests the average user should post 3-4 times a week to drive the most social engagement with an average of 20 posts a month.
When should you post? Even though it isn't one-size-fits-all, users
have found success on LinkedIn by posting Tuesday through Thursday, typically between the hours of 8 a.m. to 2 p.m. depending on your time zone. The worst time to post is on weekends or outside of business hours, which are 9 a.m. to 5 p.m. in your time zone.
What should you post? Candidates want to hear more about your total workplace culture versus just jobs. Use the categories shown in Cliquify to your advantage. For example, on Tuesday you may post something about the core values, on Wednesday about your flexible work policy, and on Thursday about a job you are recruiting for.
 How should you post? You have 4 seconds to grab someone's attention – be short in your message. Don't start with "We are hiring" – everyone does this and candidates are turned off by it.  Start with a question or a statement that grabs a candidate's attention immediately and is geared toward them or the role.
For example, if it's a technology role – "Do you enjoy working in a team of technologists who are pushing the status quo? If so, I would love to connect with you."
If it's a bartender role – "Imagine meeting people from all walks of life while serving them a drink they will remember to take the edge off. If this sounds like you, then send me a direct message."
If it's a corporate role – "Our company's mission is to create a better world for the next generation by building sustainable products. Do you want to be part of something bigger and have an impact on future generations?" 
Example of an attractive recruitment social post: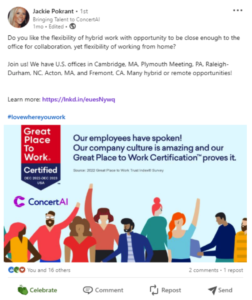 ---
Cliquify is an AI-powered employer branding platform for recruiters, hiring managers, and employees to showcase your culture, create buzz across social media, and activate your brand to get future candidates to connect with your values.