The global workforce will shrink in the coming decade. Consulting and executive search firm Korn Ferry predicts a worldwide talent shortage that will cost businesses $8.5 trillion in lost revenue by 2030. This is driven by rapidly aging demographics and lower birth rates worldwide and is more pronounced in developed nations such as Japan, Germany, the US, and the UK. Technology, automation, and immigration will help alleviate some of the talent crunch problems, but it will not be enough to support the demand. The pressure will continue to rise for business leaders to focus on attracting, building, and retaining skilled talent to fuel business growth.
As demand for skilled talent continues to exceed the supply, the "war for talent" is quickly becoming the "war for experience." I.e., Can a business provide better employee and candidate experience than their closest competitors? How does that experience help shape the employer brand inside your organization and then outward to the public?
"Experience" is a broad term. Here is a way to dissect it to help shape the narrative of your overall Employer Brand.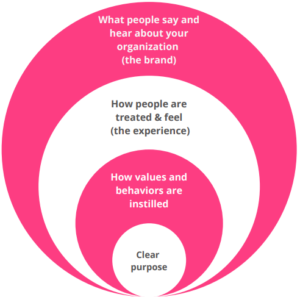 Clear Purpose: A clearly articulated purpose that people can easily understand serves as a key anchor for why your organization exists and why people should stand behind it. Why does your organization exist? How does it help customers through its products and or services? Avoid using corporate jargon. Hubspot has compiled some great examples and templates of mission statements. LinkedIn recently published the 7 best and 5 worst mission statements here.
Values & Behaviors: Defined by how your organization operates, the cultural "norms" as felt by people through behaviors displayed by your leaders, managers, and teammates. Your culture is the lowest level of behavior you tolerate. How you incentivize specific behaviors ends up becoming what you value and the "cultural norm". Values can become your DNA when instilled in your key HR processes through the employee life-cycle, such as hiring selection criteria, succession management, promotions, and performance management.
Treatment: How do people feel about working with your organization? How are they treated by teammates and their leaders? The way people experience how work gets done, the levels of approvals required, i.e., "red tape" to do their jobs, and how teams and leaders work together have a significant impact on how people feel. You could have world-class benefits and above-market pay grades, but often it's the treatment that matters to people most. Architecting a great experience starts with fair and equitable HR policies that provide psychological safety to employees. Ask the following key questions of your employees to understand how they feel:
I have a sense of pride in the work that I do.
My work is respected and appreciated.
I feel included in key decisions surrounding my team or the company's direction.
My work directly impacts a bigger cause or mission.
I am getting paid/promoted fairly and equitably for my skills & my performance.
I am offered flexible hours to enjoy life outside of work.
I am given the right tools & resources to do my job effectively.
My teammates have my back.
I have access to learning to grow my skillsets.
I am able to volunteer on company time.
The above experiences have a direct impact on shaping your employer brand. Your employer brand is what your employees experience and share with their friends about working for your organization. In summary, the quality of the talent you attract and retain is as good as your genuine employer brand driven by the experiences delivered by organizations.