Whether you're a recruiter sourcing for your perfect candidate or a jobseeker ready for your next big move, there's one common denominator that will enable you to reach your goals quicker – and that is maximizing your LinkedIn digital footprint. 58 million companies use LinkedIn to establish credibility and brand awareness, and the same can be said for talent acquisition professionals when interacting with candidates online. So you may be wondering, "How do I make sure my profile is fully updated and attractive to my network?" We're here to walk you through 8 ways to increase your personal brand on LinkedIn to increase response rates and application numbers.
1. Update your profile picture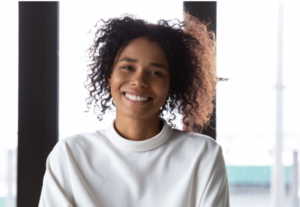 Your profile picture is the first thing users see when they click to view your profile or see your name on their feed. Research shows that users with a profile picture receive up to 21 times more profile views and 9 times more connection requests. It's important to make sure your profile photo is recent and business-appropriate. Take into consideration what's in the background of your photo, what clothing you're wearing, and the angle of the photo. If you feel like your photos are mostly casual and would like to invest in a professional headshot, the average cost is $100-$300, but if you're on a budget and have an updated camera on your phone, there's no shame in a self timer!
2. Add a background image
Background images are usually overlooked, but we believe they bring a lot to your profile as a recruiter. They're a great opportunity to proudly showcase your organization's brand. If you're not sure where to find a branded background image, reach out to someone in your marketing or employer brand department – typically they keep these on hand. If you're in a rush, usually your company has one on their profile that you can save to your device and upload to your profile.
3. Create a catchy headline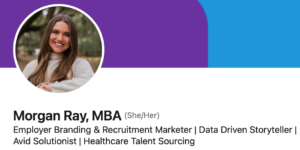 Your headline is usually pre-populated to your current job title by LinkedIn when you update your job status – but you're so much more than your job title. A catchy headline is another chance to make a great first impression. Instead of saying "Recruiter at XYZ," try "Connecting candidates with their dream job at XYZ" or "Not just your average recruiter – ask me how you can grow at XYZ." The options are endless – feel free to really get creative and make adjustments as you develop new skills.
4. Summarize your niche
We've all heard of the importance of an elevator pitch – well, let me introduce to you the digital elevator pitch. LinkedIn shares that profiles with a summary receive almost 4 times more profile views than those who do not. Oftentimes a summary can be intimidating – I know it was for me at first – which is why LinkedIn provides a personalized template to get you started. If you don't already have a summary, simply click on "Add a summary" on your profile, and a template is generated based on the information you have on your profile. From there, make adjustments as necessary and proudly share your story with your network!
5. Create and share engaging content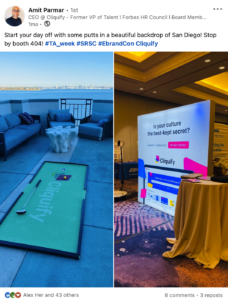 The type of content you share is the special sauce when building a network. People want to see unique content, not the same-old same-old "we're hiring!" posts. From an employer branding perspective, potential candidates want to see what it's like to work at your company. Did you recently attend a volunteer event with your team? Did you recently get promoted? What benefits does your employer offer that positively impact you and your family the most? Can you share a testimonial from someone on your open requisition's hiring team? The options are endless, but if you're struggling for ideas, check out your company's page and share your thoughts with one of their recent posts. As long as your content is engaging and authentic, your list of passive candidates will gradually increase because they want to be a part of it too!
6. Engage with your network
Recruiting parallels directly with networking. The importance of staying connected with previous candidates who perhaps didn't get the job and former employees on LinkedIn will help to expand your talent network in the future. Just because a candidate or employee wasn't a good fit then, doesn't mean they won't be interested in an upcoming role. In addition to previously established connections, it's important to keep an eye out for potential new connections as well. If you see someone openly searching for opportunities on your feed that align with a current opening, be sure to reach out, offer your support, and direct them to the appropriate contact to consult for the job.
7. Give and receive recommendations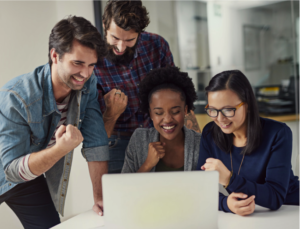 Let your network know you're great at what you do! Many users do not utilize LinkedIn recommendations, but it's one of the easiest ways to showcase your legitimacy to potential candidates and employers. If you've had a great experience with a coworker, manager, or even previous candidate, politely ask them for a recommendation on your profile in exchange for one to theirs. Your given and received recommendations show that you're a team player and do your job well. Start requesting!
8. Be yourself
Last but not least, without being a cliché, be yourself. Your LinkedIn profile is meant to represent you throughout your professional journey, and that's something to be proud of. Your network will appreciate your genuineness and creativity.
As a recap, your personal brand is an extension of your organization's employer brand. LinkedIn is a powerful tool to showcase your story that allows you and your organization to become more relatable and personable to candidates.
---
Cliquify is an AI-powered employer branding platform for recruiters, hiring managers, and employees to showcase your culture, create buzz across social media, and activate your brand to get future candidates to connect with your values.